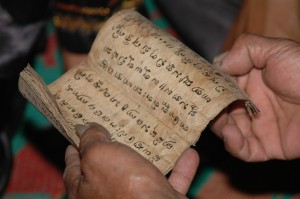 The Tanjung Tanah manuscript was issued by the royal court of Dharmasraya, also known as the Malayu kingdom, in the 14th century to provide the land of Kerinci (bumi Kurinci) with a legal code. Written in the pre-Islamic Old Sumatran script, it is the oldest extant Malay manuscript.
Naskah Tanjung Tanah merupakan kitab undang-undang yang dikeluarkan oleh kerajaan Malayu pada abad ke-14 untuk menetapkan hukum di bumi Kurinci. Naskah yang ditulis di keraton Dharmasraya dengan menggunakan tulisan Sumatra Kuno adalah naskah Melayu yang tertua.
Click here for a slideshow of the manuscript (opens in a new window).
Daftar Pustaka | Publications
Books | Buku
Kozok, Uli. 2006. Kitab Undang-Undang Tanjung Tanah : Naskah
Melayu yang Tertua. Jakarta: Yayasan Naskah Nusantara, Yayasan Obor Indonesia.
xiv +168p.
Kozok, U. 2004. The Tanjung Tanah Code of Law: The Oldest Extant Malay
Manuscript. Cambridge: St Catharine's
College and the University Press. 128pp.
Articles | Makalah
Kozok, Uli. 2004. A 14th century Malay manuscript from Kerinci. Archipel 67:37-55. Download pre-publication PDF file
Thesis | Skripsi
Soedewo, Eri. 2007. Perbandingan representasi pengalaman pada teks prasasti
Trowulan dan Kitab Undang-Undang Tanung Tanah. Sekolah Pascasarjana. Universitas
Sumatra Utara. Download
Unpublished | Tidak diterbitkan
Muslim, M.U. 2006. Beberapa catatan tentang bahasa kitab undang-undang
Tanjung Tanah. Makalah dibacakan dalam peluncuran
Kitab Undang-Undang Tanjung Tanah : Naskah Melayu yang Tertua yang
diselenggarakan oleh Departemen Susastra, Fakultas Ilmu Pengetahuan Budaya,
Universitas Indonesia. Depok 1 Agustus 2006.
Downloads
[download_link link="https://ulikozok.com/wp-content/uploads/2012/04/Muslim-2006-Bahasa-KUUTT3.pdf"]M.U. Muslim. 2006. Beberapa Catatan tentang Bahasa-KUUTT[/download_link] [download_link link="https://ulikozok.com/wp-content/uploads/2012/04/Ninie-Susanti-2004-Aksara-KUTT3.pdf"]Ninie Susanti. 2004. Beberapa Catatan tentang Bahasa-KUUTT[/download_link] [download_link link="https://ulikozok.com/wp-content/uploads/2012/04/Kompas_07-01-081.pdf"]Artikel di Kompas 07-01-2008[/download_link] [download_link link="https://ulikozok.com/wp-content/uploads/2012/04/alihbahasa.pdf"]Transliteration – Alih Bahasa[/download_link] [download_link link="https://ulikozok.com/wp-content/uploads/2012/04/Muslim-2006-Bahasa-KUUTT3.pdf"]M.U. Muslim. 2006. Beberapa Catatan tentang Bahasa-KUUTT[/download_link] [download_link link="https://ulikozok.com/old/downloads/Cambridge.pdf"]Uli Kozok. 2004. The Tanjung Tanah Code of Law: The Oldest Extant Malay Manuscript. Cambridge: St Catharine's College and the University Press. 128pp[/download_link]